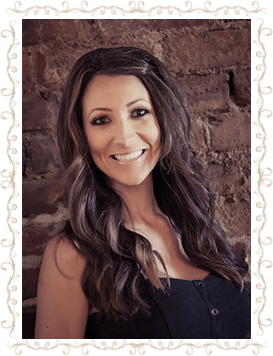 Ever since I was little, I can remember being interested in hair.  Whether it was doing my own hair for dance recitals, having my mom braid and curl my hair every day for school, cutting every one of my barbies hair, doing my friends hair for prom, etc.  Whatever it was, if it had to do with hair, I wanted to get my hands in it!
         In addition to hair, education has always been important to me as well.  Keeping those two things in mind, after high school, I attended and graduated from San Diego State University with a Bachelor's degree in Communication, with an emphasis in advertising.  While in college, I still kept very involved with doing hair, and it was during that time period that I really realized that was my passion.  Every weekend before going out, my friends would make "appointments" with me to do their hair for the evening, and that's truly when I felt I was in my groove and it was something I could see myself making a career out of.
Soon after graduating, I moved back up to the Bay Area to be closer to my family and to start my journey in becoming a hairstylist.  Going back to the fact that I put a big emphasis in education, after graduating from beauty school in less than a year, I was looking for a salon with a training program where I could work as an assistant, learning the ropes before fully putting myself out there as a stylist.  Enter, Victoria's Salon.  Little did I know that this would be the place that I have been able to call my second home, for over 12 years now.  I've grown so much as a person and as a hairstylist here and look forward to many more years!
           What I love best about my job is the relationship dynamic between my clients and I.  They all honestly feel like family to me, and not only do I enjoy making them look and feel beautiful, I enjoy every minute we get sharing stories, hearing about their latest travels, family plans, etc.  I am so lucky to have built a great clientele that I look forward to coming to work for and seeing everyday.
          I regularly attend education classes through the salon as well as a variety of classes outside of the salon.  I always believe there is room for growth, room to get better, and I strive on never settling to be average as a hairstylist.  I believe in delivering my best to my clients every time they sit down in my chair.  Seeing them light up when they see the final result of what I've done with their hair is what I live for!
          I love Coloring, cutting and styling.  I'm very drawn toward natural sun kissed looks, whether that is achieved through foils, balayage etc.  I love that i am able to customize my clients colors based on all of the techniques I have learned through various classes.  I enjoy cutting Medium to longer length hair that is medium to thick in density.  Styling is also part of what I love about my job.  Whether it's a basic blowout or fun braids, I have a fun time getting my clients ready for all of their special events!